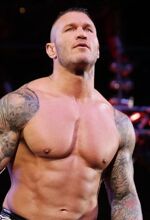 The best product offers from Randy Orton
WWE Official Merchandise
WWE Randy Orton replica belts
WWE Randy Orton champion belts are a must. Young and old alike will find the desired belt.
WWE Randy Orton T-shirt
Be proud to wear a t-shirt daily to support your favorite WWE Randy Orton wrestlersWWE Randy Orton.
Whether you are a worker, a sportsman or a party animal, find the t-shirt you need.
T-shirt édition spéciale WWE Randy Orton « Portrait du Legend Killer » - Hommes